"Lo, children are an heritage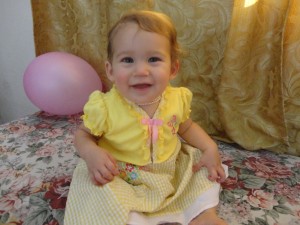 of the Lord…" Ps. 127:3  What a blessing to be the parents of a precious child!  It has been a joy for us to watch Abigail grow from a tiny infant to a very active baby.  These days she keeps us very busy as she explores her expanding world.  It 's amazing to think just how quickly this past year went by.  Lititle Abbie now walks and practically runs.  It's also fun to hear her talk, grunt, and coo.  Yes, this year has been a year of many firsts for Abigail and for us.  There have been times when being parents has been challenging…especially when Abbie first discovered she could voice her own opinion.

  However, we have also enjoyed the rewards and pray the Lord gives us wisdom as we raise and train our baby girl.  We thank the Lord for this wonderful gift.  It's only been a year but we wouldn't know what to do without our little girl now.  Abigail truly has been a blessing!
2 Comments to "Abbie's 1st Birthday!"
RSS feed for comments on this post.