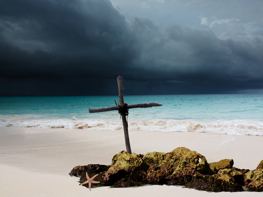 We have moved to the other side of the globe to bring the Gospel to the Philippines. But the Filipinos are not the only people that need to know the gospel…every man and woman born on this earth needs Christ. God's plan for salvation is simple…
First, you must realize that you are a sinner.  The Bible says, "There is none righteous, no not one." "For all have sinned and come short of the glory of God." (Romans 3:10, 22-23) None of us deserve to go to heaven. We have all done wrong and sinned against a holy God. The Bible also tells us that "we are all as an unclean thing, and all our righteousnesses are as filthy rags..." We can never be good enough to go to heaven. It takes just one sin to condemn us to hell. (James 2:10) "For whosoever shall keep the whole law, and yet offend in one point, he is guilty of all."
Second, you must know there is a penalty for your sin. That penalty is eternal separation from God. "For the wages of sin is death" (Romans 6:23) "Sin…bringeth forth death…" (James 1:15)  Because of sin we must all die someday, but if we die in our sins we will be separated from a holy God. But there is also a second death…Revelation 20:14-15 says, "And death and hell were cast into the lake of fire. This is the second death. And whoseoever was not found written in the book of life was cast into the lake of fire." This is eternal separation from God…in hell.
Third, realize there is hope! Christ paid the penalty for our sins when He died on the cross! God does not want to be eternally separated from you and He "is not willing that any should perish." (II Peter 3:9) God loves you so much that He allowed His son, Jesus, to take the full penalty of your sins and die in your place! "He hath made Him (Jesus) to be sin for us, who knew no sin; that we might be made the righteousness of God in Him." (II Corinthians 5:21) Because he was perfect he could take our place. He died, taking our sin…and then rose from the dead, conquering hell, sin, and death. His resurrection was proof that He was God and that He paid for all man's sins.
Finally, if you want to be saved you must accept Jesus Christ as your Savior! Repent of your sin and ask Him to save you! Christ is the only way to heaven. Your good works cannot clean your soul. Baptism cannot wash your sin away, only the precious blood of Christ can do that. "For whosoever shall call upon the name of the Lord, shall be saved!" (Romans 10:13) Salvation is a free gift for anyone who will take it. Trust in Christ, and Him alone to save your soul.
If you have any further questions regarding salvation please email us! We would love to introduce you to Christ! This is our passion, to bring searching souls to the Master!