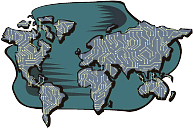 Faith Bible Baptist Church believes in "the Great Commission" (Matthew 28:19-20) command of our Lord Jesus Christ. In Acts 1:8 we are told to witness for Christ unto the uttermost parts of the world. We participate in this command though financial support, prayer, and volunteer assistance to numerous like-minded missionaries and ministries around the world.
We are excited to introduce to you the missionaries and ministries we financially support which are helping us, as a local New Testament Church, fulfill our God-given mandate to go into all the world and make disciples of all nations. Because of the sensitive nature of their occupation some of our brethren on the mission field request the specifics not to be presented on the Internet. Please hold these brave souls up in prayer as they hazard themselves for the cause of Christ.
Please remember to pray (how to pray for a missionary) for these missionaries and write to them when you can.
Anderson, Oral & Alicia [Oral Jr, David, Joshua, Alaina, Ashley] - Jamaica
Antonio, Aaron & Annie [Norein Grace, Faith, Job] - Cambodia
Antonio, Gideon & Christine [Zechariah, Zerahiah, Zedekiah, Zebediah] - Philippines
Antonio, Isagani - Cambodia
Antonio, Isagani Jr - - Philippines
Arold, Ed & Sindy [Abigail, Naomi, Eddie IV, Joshua] - Thailand
Bachman, Mark & Cassie [Timothy, Amanda, Benjamin, Philip, Thomas, Ephraim, Theresa, Stephen, Jonathan, Samuel, Joseph, Sofia]
Ballos, Elbern & Angeline [Ean] - Cebu Isalnd Philippines
Barley, Bob & Mariko - Japan
Barnhouse, David & Maggie [Emily, Stephen, David Jr] - Zambia
Bartley, Wes & Faith Ann - St Lucia, Central America
Bassett, Jeff & Carla - Uganda
Batac, Jing & Lene - Philippines
Bearing Precious Seed - Lansing, MI
Beier, Kevin & Shiloh [Rilla, Paton, Katelynn, Rebekah, Matthew] - Australia
Belisle, James & Linda - Missionary Evangelist / Field Representative FBMI
Benach, Henry & Victoria - Jewish End Time Ministries
Berg, Don & Angie - Australia
Blanz, Jeremy & Michelle [Lila, Ellowyn, Elijah] - Costa Rica
Bradley, Raymond & Anita [Paul] - Ecuador
Brunk, Matt & Katie [Leilani] - Maui USA
Burden, Clint & Selah [Charity, Benaiah, Titus, Nathanael, Lydia, Miriam] - Indonesia
Burkhard, Dominic - 121 Capital Connection
Canavan, Jon & Amber [Ellyanna] Church Plating in NYC USA
Caranguian, Genesis & Jenny - Philippines
Carney, James & Virginie [Declan, Zachary, William] - France
Carney, Mike & Lynn [Sean, TJ, Matthew, Katie] - Hungary
Caudle, Todd & Eva [Abby] - Ontario, Canada
Celestial, Ricky & Tina [Eunice, Lawrence, John] - Philippines
Christian Law Association - Attorney David Gibbs and Staff
Christian Radio International - Director

George Zarris

Christiansen, Scott - Philippines
Cicansky, Bill & Bunny - Toronto, Canada
Clarke, Don & Karen - Zambia
Clayton, Evangelist Larry & Lois - Salvation Evangelist Association
Cleghorn, Duane & Chrislei [Joy, Silas, Sharon] - Operation Utermost
Cooley, Benjamin & Carrie [Noah, Elsie, Emma] Church Planting Washington St USA
Cormier, BJ & Jessica [Seth, Sabrina, Shanna, Stacy] - Kenya
Corn, David & Joy[Carson, Addison, Landon] - Evangelist w/Magic Morailty Ministries
Countryside Baptist Church - Church Plant in Perrysburg, NY
Cox, Justin & Evelyn [Matthias, Nehemiah- Venezuela
Crabtree, Scott & Tricia [Scottie, Jessalyn, Brooklynn] - Deaf Ministry Columbus, OH USA
Curtis, Eric & Jessica [Anna, Lydia, Samuel, Daniel, Abigail, Mercy] Malawi
Day, Andrew & Jennifer [Aiden, Ian]- Ireland
Death Unto Life Ministries - Evangelizing in the black community
DeMastus, Rick & Sarah [Madelyn, Katelyn, Jocelyn, Gracelyn] Scottland
Denning, Tim & Robin - Church Planting in Albion, NY
Depew, Tom & Tiffany [Lydia, Lucy, Lola] - China
DeWitt, Bob & Carol - Golden Land Baptist Missions
Dice, Shane & Jericho [Aiden, Zoe, Rylkee] - England
Dye, Justin & Kayleigh [Adrienne, Juliette, Madilenne] - Papua, New Guinea
Forney, Barb - Artic Circle- Director of Points North Baptist Missions
Frank, Matthew & Hannah [Titus, Savannah] Rock Of Ages Ministry
+ --- ------ - Israel
Geer, Tom & Cris - Children's Ministry Missions
------ - India
Goddard, Josiah & Ruth Ann [MaryAnn] - Trinidad
Gomez, Manuel & Veronica [Morelia, Denisse, Bella] - Mexico
------ Sri Lanka
Gutierrez, Osmin & Eva [Juan, Gerson, Timothy] - Honduras
Haddad, Ghassan & Ghada - Jordan
Haley, Junior & Haley [Josiah, -] - Belgium
Hansen, Derek & Alicia - Chile
Harding, Chuck - Awake America Ministries
Harris, John & Robin [Zechariah, Madalyn, Kaitlyn] - Belize
Heisey, Pete & Julie [Larissa] - Romania
Helzerman, Mark & Christi [Hadassah, Grace, Hope, Serenity, Glory] –Papua, New Guinea
Heppen, Gary & Claudia - US Military in Germany
Hoffman, Brent & Jen [Gabby, Joab, Keira, Vienna, Judah] - Panama
Hoffmeister, James & Beverly [Brianna, Brad] - Trinidad
Ingalls, Larry & Cheryl - Baptist Couriers For Christ, getting the Gospel to Eastern Europe & the Former Soviet Union
Ingram, Tim & Ingrid [Joshua, Rebekah] - Brazil
Johnson, Bryan & Rebekah [Jeff, David, Lee] - Brazil
Johnson, Matt & Annetta - Mexico
Johnson, Randy & Kelly - USA
Kessler, Danny & Missy [Joshua, Kensey, Alyssa, Kaitlin, Chis, Zach] - Bulgaria
Kidd, Joshua & Jenny [Carissa, Elizabeth, Robert, Sarah, Natalie, Carver] Cape Verde, Africa
Kreh, Eric & Lisa - The Netherlands
Langbid, Walter & Jepthe [Kaela, Kaeleb, Kael] Bantayan Island Philippines
Ledbetter, Craig & Nita - Ireland
Lesada, Nemuel & Lynn - Philippines
Lighthouse Legal Ministries - Attorney Terry Hamilton (Glory to Glory Ministries)
Lindsey, Monique - Silent Word Missions International
Lohman, David & Naomi [Philip]- Ukraine
Lowe, Cris & Rebekah [Ellianna] - Canada
Malazo, Adonis & Sandra [Micah, Matthias, Shirley, Emma-Joy, Alison] - Philippines
Matacchiera, Damon & Lisa [Felicia, Natalie, Joseph, Calina, Anthony, -] - Zambia
Maulucci, Nick & Katie [Vittorio, Dominic, Raphaele, Adela, Sophie, Sonny, Michael, Nino, Enzo] - Bulgaria
Maynard, David & Berita - Missionary Evangelist
McDonald, Corey & Elizabeth [Corey Jr, Annabelle, Marydia, Judson, Adeline] - East Africa
McKinney, Jacob & Shera [Ryland, Landon, Hudson] - Bolivia
McLean Family [Sam, Alayna, Ariana, Sofia, Lillie] - Paraguay
Meyer, Michael & Carol [Abigail, Lydia, Timothy] - Mexico
+ -------- ----- - Israel
Morrison, Robbie & Carol - All Points Baptist Missions Director
Morrissey, Mike & Ruth [Elizabeth, Michael Jr, Andrew] - Philippines
Muldoon, Ben & Marie [Serenity] -Romania
Murray, Robert & Jessica [Elizabeth, Daniel] - Bolivia
Neal, Gary - Wings Bearing Precious Seed
Nichols, Bob & Iara [Bobby, Daniel, David, Megan] - Brazil
Norton, Daniel & Christina [Abigail, Gideon, Lydia, Pricilla, Ezekiel] - Slovenia
NOW Ministries - Toru Marshall
Olson, Roger - Fishers of Men International - Soulwinning at County and State Fairs
Orcales, Edgar & Anna - Philippines
Owens, Joshua & Abi - Argentina
Owens, Larry - Argentina
Parfitt, Reese & Stacy [Charles, Charity] - Papua, New Guinea
Pridgen, James & Cheryl [Kimberly, Stephen, Joseph] - Uganda
Pulmones, Noe & Grace [Darah] –Cambodia
Rasquinha, Cindyann - India
Reed, Daniel & Christa [Erin, Joseph, Jay] - Romania
Reformers Unanimous International
Roberts, Nathan & Laura [Peter, Seth, Heidi, Titus] - South Africa
Robinson, Philip & Brenda - Chile
Rodrigues, David & Jill - [Timothy, Kaylee, Renee, Phillip, Samuel, Gabriel, Tessie, Hannah, Olicia, Sadie, Sofia, Janesse] - Gleaning For Christ Missions
Runyon, Dean & Patty - Guyana
Russell, Adam & Sarah [Cristian, Kendra, Braden] - Mexico
Russell, Jason & Anna [Ruth, Joy, David] - Papua, New Guinea
San Juan, Charles & Gladdie [Nikki, Jaimie, Charlie] - Taiwan
Schoof, Greg & Angela [Timothy, Virginia, Micah, Zachery] - Uganda
Schultz, BJ & Kathy [Jay, Tyler, Michaela, Daniel, Caitlyn] - Tanzania
Schwaderer, Doug & Carolee - Canary Islands
+ ---- ----- - Vietnam
Seremak, Kenneth & Sheila [Donavan, Marshall, Jeremiah, Isaiah, Joanna] - Papua, New Guinea
Sharp, Terry - Canary Islands
Shields, Ethan & Beth [Elana, Noah, Sofia, Julia] - Panama
Silva, Walt & Peggy - Uruguay
Skean, Jonathan & Katrina [Vivian, Cherith, Jack]
Smith, Chase & Vaida [Ema] - Lithuania
Smith, David & Amy [Elizabeth, Abigail, Andrew, Maryann, Sarah] – New Zealand
Soapa, Amos & Lisa - Togo, West Africa
Speer, Ted & Elizabeth [Kimberly, James, Rachel, Grace, Michael] Ghana Team Missions (FBMI) - Kumasi, Ghana
Stembridge, Rudy - Word For The World Baptist Missions
Suico, Rackson & Jane [Ebenezer, Psalm] Bohol Island Philippines
Sutphen, Alen & Elena - Uganda
Suttle, Brooks & Tricia [Joshua, Andrew, Jonathan, Philip, Malachi] - Maine USA
Taglialatala, Jim & Sue - Spain
Thompson, Christopher & Leah [Lincoln] - Ecuador
Todd, Michael & Susan - Church Helps & Short term missions
Torres, Pedro & Charo - Spain
+ ---- ----- - Middle East
Van Voltenburg, Jim & Kim - Scotland
+ ------ - India
Walker, Kevin & Family Round Up Ministries - Evangelist
Wallace, Mike & Mary - Mexico
Wears, David & Michelle [Alaithia, Elijah, Karis, Zoe]- Portugal
Wells, Chad & Kristen [Amber, Trevor, Derrick, Connor] - Papua, New Guinea
+ ------ - India
White, Brenton & Christina [Elizabeth, Josiah, Sophie, Anna] - Philippines
White, Chris & Rhonda [Faith, Dalton] - Japan
White, James & Adie [Cybil, Malachi] - France
Wiles, Rick & Joanna [Silas, Paul] - Ukraine
Williams, Evan & Carmen - Honduras
Wilson, Caleb & Tabitha [Cassia, Cherith] - Papua, New Guinea
+ ---- ---- - Middle East
Zander, Adam & Rodica [Adela] - Romania
Word For The World Baptist Ministries - Office support
Zipagan, JoJo & Letty - Cambodia
Last Updated January 19, 2023